Yole Ice Cream
Opportunity details
Type
Franchise

Cash Required

The cash required is the amount of cash you have available or that you can access without referring to a traditional loan (family loans, stock, retirement plans, etc).

50000

Total Investment

The total investment is the total expected spending amount to start their business. This includes the franchise fee and other spending fees such as real estate, staffing, and supplies.

$120,000 - $300,000
Native Country
Spain

Available Locations

The available locations for franchising are the territories or regions the franchisor is looking to develop.

Bahrain, Egypt, Kuwait, Oman, Qatar, Saudi Arabia, Turkey, United Arab Emirates
| | |
| --- | --- |
| Total Units (Worldwide) | |
| Year Founded | |
Yole Ice Cream
Distinctive and unique taste made available worldwide. Retail-packed Yolé ice cream suitable for supermarkets, convenient stores and HORECA. Ready for grab-and-go or takeaway for home consumption. Promoting a healthy lifestyle, we constantly innovate solutions for the ever-changing consumer demands.
WHY YOLE?
Healthy and Tasty
Yes, We make it possible
Yole brings you to the new era of ice cream and frozen yogurt. Yole means a new way of making and eating a better, healthier, and more conscientious ice cream. And above all full of flavor. We never compromise on the taste for the calories. This makes us unique.
Yole , the no sugar added ice cream and frozen yogurt brand, is constantly working in our R&D department looking for new flavours, new products for the winter season... catching the healthy consumption trend, and transforming an impulsive consumption product (like ice creams) into a guilty-free product. Opening a YOLE franchise means starting the business with uncompromising quality, excellent team, and a revolutionary brand which invests in innovative and friendly-environment stores like never seen before.
Yolé is here to change the ice cream industry's landscape with an innovative product and an overwhelming offer of options for the consumer and the investor. Yolé launches an ambitious expansion plan worldwide. A low investment with a high and fast profitability model with no sugar added frozen desserts that compete in flavor with sugar added leading brands.
Goodbye Sugar,
Hello Taste.

HOW MUCH DOES THE YOLE FRANCHISE COST?
YOLE is looking for Multi-franchisees or Master-franchisees willing to expand the brand into a region. The total initial investment range from $120,000 to $300,000. The total initial investment for the one single outlet ranges from $50,000 to $120,000.
Initial investments: from $120,000 - $300,000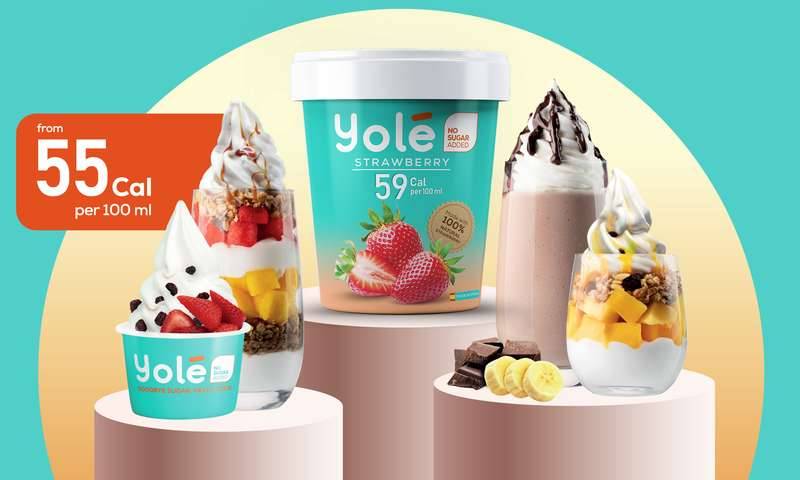 Include the Initial Entry Fee for the Multi-franchise license or Master-franchise license (the amount will depend on the country/region to choose).
Include the first Store/s, and full equipment.
Royalties:
Royalty fees: 6%
Ad Royalty fees: 0%
Franchise fees for opening 1 outlet:
Individual license Fee - Shops, Foodtrucks and Kiosks (with table area): $5,000
Individual license fee - Foodtrucks and Kiosks (without table area): $3,000